Configuring Multi-Source Downloads
The client can concurrently download file parts from multiple sources for a single file. This download method called multi-source download can speed up the synchronization time required to download the file.
To enable/disable Multi-Source Downloads:
Multi-source downloads are enabled by default for LAN and WAN. To enable/disable the feature:
1. Click on Preferences in the main window.
2. Click on the tab Expert Settings.
3. Configure the checkboxes next to Multi-source download as preferred. Add a checkmark to enable the multi-source download for the respective connection or remove the checkmark in order to disable it.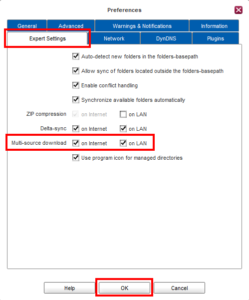 4. Next, click on OK.
5. Done! The settings for the multi-source download have been successfully configured.