Installing on macOS
This guide describes how to install the FAUbox client on a macOS-based operating system.
You can find more information about the requirements of the desktop client concerning the hardware, operating systems, and other software that is presupposed, here.
1. To download the FAUbox application package:
1.1 Download on a device supervised by the RRZE:
If you have a Mac device that is supervised by the RRZE, then you should use the FAUmac Self-Service to download the application package and install the FAUbox client. In case you want to install the client on a self-supervised device, skip this section and follow the instruction in the next section.
1. Select the FAUmac Self-Service.

2. Now the FAUmac Self-Service window is displayed. Select the Software Dienstprogramme.
3. Select the FAUbox icon in the program list.
4. Download the appropriate FAUbox package by selecting Install.
5. Now wait until the installation is completed and click on Close.
6. The installation is now completed. If the FAUbox client doesn't start automatically, you can open it via your Finder        (Applications).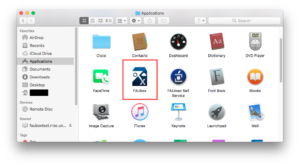 1.2 Download on a self-supervised device:
The instruction in this section shows you how to download the application package on a self-supervised device.
1. Visit the FAUbox Web Interface and click on Clients.
2. Click on the Download button underneath Mac to download the application package.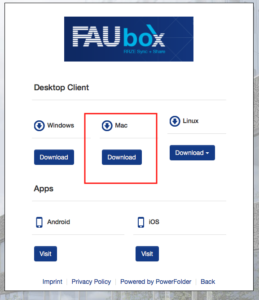 2. To finish the installation:
1. Open the application package you've just downloaded (e. g. via the download view of the web browser you have used).
2. Click on Accept after you have carefully read the license terms.

3. Wait until the program has opened and the installation is completed.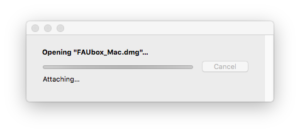 4.  Add the FAUbox client to the Launchpad by moving it to the folder Applications.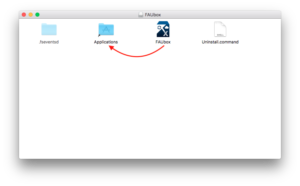 5. You can now open the FAUbox client. (By clicking the FAUbox icon in Applications or in the Finder).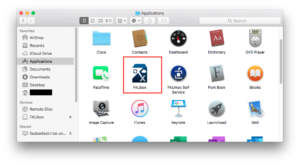 6.  When opening the FAUbox client for the first time, the following warning may show up.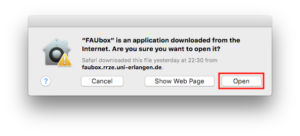 Not every file for which you receive a warning is actually harmful. In the case of the FAUbox, we are very focused on its security, therefore you can click on Open without worry. In general, however, it is important that you trust the website which you are downloading the files from and that you actually want them.
7. Done! The installation is now completed and the client is ready to be used!
Also Interesting:
1. Getting started
2. Client Update on macOS
3. Resetting the FAUbox Client on macOS
4. Uninstalling on macOS
The following client guide may also help you to get used to the FAUbox client faster so that you can work with it efficiently in just a short time!