It is currently not possible to create a Subfolder via the client!!!
Please do not try to create a Subfolder via the client because it could lead to major damage!!!
Currently, you can only create Top Level Folder via the client. The following instructions describe how to do that:
Creating a Top Level Folder
2. Select any existing directory to share or create a new one via the New Directory button.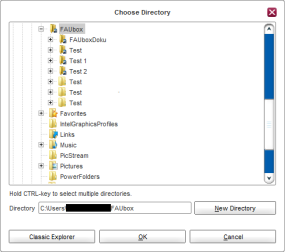 To share folders residing on a network drive, simply enter the UNC path to the folder into the Directory field, e.g. \\server\share_name\directory_to_share.
3.  Done. The folder is now ready to be shared with other people.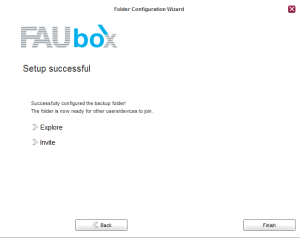 Click on Explore to open the Top Level Folder.
Click on Invite to share the Top Level Folder with other users.
Click on Finish to close the wizard.
Sharing a Top Level Folder
To invite people to a Top Level Folder:
1. Select the folder you want to share from the list.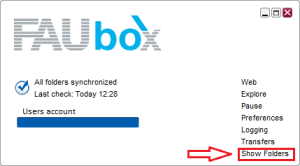 2. Right-click on the folder you want to invite people to. Click on Invite.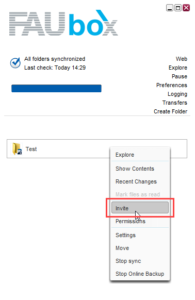 3. Enter the email address/ username@uni-erlangen.de of the person to invite. Furthermore you can select the permission the invitee should have on the selected folder.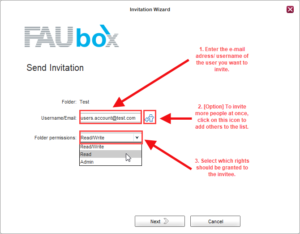 Click on Next to continue.
When adding more than one person, please click on the 

icon next to the e-mail box to add the current email address to a list.
Done. The folder will now show up in the client of the user(s) you've just invited. Additionally they will receive an e-mail notification about this, including instructions how to get and install the client, if they don't have a client installed yet.
Click on Finish if the wizard doesn't close automatically.
Sharing a Subfolder/ files
To share a Subfolder or a file with other people:
1. Select the Subfolder/ file you want to share and right-click. Click on Share Link.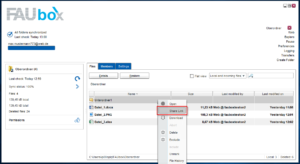 2. You will be redirected to the following website: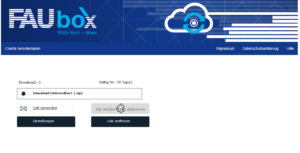 Before you send the link you can use the settings to…
… select an expiry date, after which the link will not be working anymore.
… decide on the number of downloads you want to allow the user.
… encode your Subfolder/ file with a password which the user need in order to open up the documents.
After you have click on Send Link, an assistant will appear. Now you have to enter the e-mail-adresse of the person you want to share the Subfolder/ files with. You can also write a short note which the user will receive together with the link.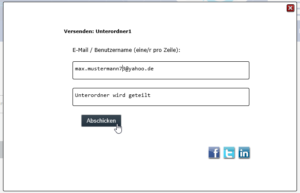 3. Finished! Now the User will receive the Link to the Subfolder/ file together with the short note you wrote.