To view the contents of a folder, click on the folder name in the folder list. This will immediately give you a list view of the folder and it's sub-directories.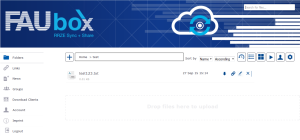 Creates Directory.
Shows deleted files.
Switches to a detailed table view of folders.
Switches to gallery view of folders.
Manage Members. As owner of the folder you can either add others or revoke rights to members or halt sharing to members.

You can also inherit your ownership to other member.

Here you access settings.
Downloads a file. If it's a directory the complete directory contents will be placed in a ZIP file and downloaded.
Shares a file via link. If it's a directory a link will be created as well, but the download will be a ZIP file with the contents of the directory. You can only share a file or directory via link if you are an ADMIN or OWNER of the folder.
Renames a file or directory.
Deletes a file or directory.
Uploading files
There are two ways to upload files to folders through the cloud:
With the "Choose File" option:

Click on "Choose File"

Choose the desired file and click on "upload".

With Drag & Drop Upload

You can use the drag & drop method to click and drag files to upload them while holding down the left mouse button.

Left-click a file you would like to upload and do not release the left mouse button.
Now move the file to the marked area. Keep holding the left mouse button while doing so. You can also use this method to upload several files at once. To do this, hold down the ctrl button while choosing the files, and then click on "upload.

As soon as the file is above the marked area, release the mouse button. The file will now be uploaded.
You can upload more than one file simultaniously with the drag & drop method!
You cannot upload folders using the cloud interface!
Using other views
Beside the list view, the cloud web interface offers four other views on files and sub-directories of a folder:
Gallery View – Shows pictures which are inside the current folder / directory as an image gallery.
Tile View – Shows folder contents as tiles.
Music Player – Plays MP3 files which are inside the current folder / directory.