Uploading files
The FAUbox offers you the option to upload files from your device into your FAUbox folders. Once the upload is successfully finished, the files will be included in the synchronization.
To upload a file from your device into a FAUbox folder:
1. Browse to the folder/directory where you want to upload the file to.
2. Access Upload here by clicking on the extension function in the right top corner.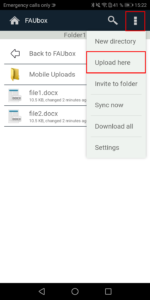 3. Browse to the directory where the files to be uploaded reside.
4. Select the file and click on Upload.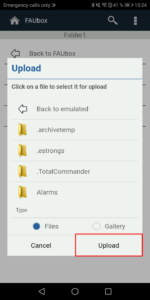 Upload restrictions on Apple devices
SSO-Users are currently not able to upload files via iOS-devices like iPhones or iPads. We are trying our best to find a solution for this problem as fast as possible.