In order to invite someone to a folder:
1. Click on the icon next to the folder; you will now see four options to choose from (Download, Invite, Share, Delete). Select the option Invite.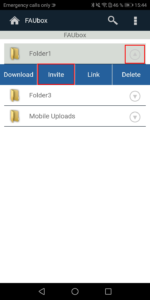 2. A pop-up window will appear, where you can type in the username or e-mail address of the person you want to invite. Additionally you can select the Permission the invited person should get to your folder. Available permissions are: Read, Read/Write, Admin (the latter allows the member to invite other users to the folder and can only be given to FAUbox-users).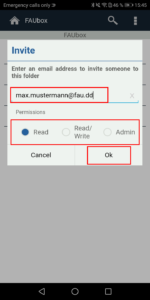 3. Click on OK.


If the person who you have invited to the folder has no FAUbox-account yet, then she will also receive a second e-mail containing further instructions on how to access the folder.