Installation and Login on an Android-device
1. Installing the FAUbox Mobile Apps
The installation is straightforward. Simply access the software store Play Store on your device, search for the FAUbox-app and install it.
2. Logging into the app and connecting to the Cloud
When starting the FAUbox mobile App for the first time on your device, you will be asked to allow the app to access the photos, media and files on your device. Allow the access by clicking on Allow.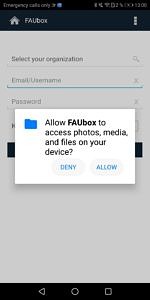 1. Enter your organization, username and password.
2. Click on Log in.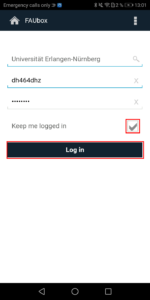 By clicking on Keep me logged in, you will be automatically logged in whenever you close and reopen the app. If you don't, you have to enter your login information again each time you open up the app.