Installation and Login on an iOS-device
1. Installing the FAUbox Mobile App
The installation is easy and straightforward. Simply access the softwarestore Appstore on your device, search for the FAUbox-app and install it.
2. Logging into the app and connecting to the Cloud
1. As soon as you open the newly installed app, the registration form appears and you have to enter your access data. Choose your institution from the drop-down menu and enter your username and password. Afterwards, agree to the terms of use and click on Login.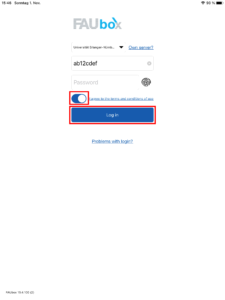 2. Next, you will be asked whether you want to permit the FAUbox to use biometric identification. Biometric Identification enables you to log in without having to enter your password every time (instead you can login by simply pressing your fingerprint on the home button). Choose Activate if you want to allow this option, otherwise click on Cancel.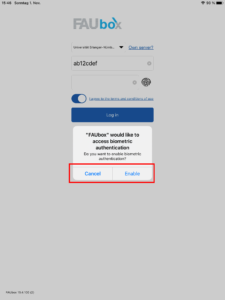 3. Done! You have successfully logged in.