Client Update on Linux
When a new update is available, the following notification will appear as soon as you start the client.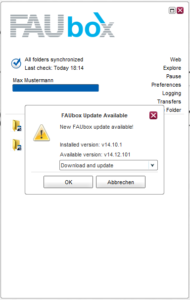 In case the notification does not show up, you can open it by clicking on Preferences and then on Update (tab: General)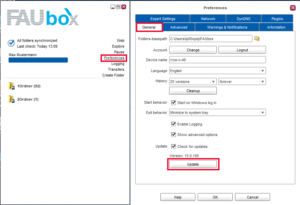 1. To start the update, visit the homepage of the FAUbox webinterface.
2. Close your client in case it is still open.
3. Now you have to download the new Linux client version from the webinterface.
4. Open the file once the download is completed and authorize the installation with your password.
5. The client will now be installed.
6. Done! The newest client version is now installed and you can continue working with the FAUbox client as usual.