Installing the PowerFolder Add-On on Thunderbird
The PowerFolder Add-On allows the user to upload large files to their FAUbox through Thunderbird.
Installation guide
1. Open Thunderbird and click on Settings (Gear symbol)
2. Click on Add-ons and Themes.
3. Select Recommendations and type in "PowerFolder" on the searchbar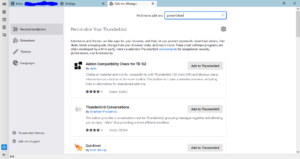 4. You will get sent to the Add-On site of Thunderbird. Select the first shown Add-On and click Add on Thunderbird. Now you will only have to accept the installation.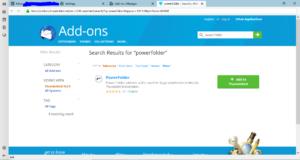 The Add-On should be installed now. You can check it by going to Setting > Add-on and Themes > Extensions.  If the Add-On is visible and listed in the "enabled" section, the installation was successful. Otherwise, activate the Add-On or try installing it again.
A guide on how the Add-On can be used correctly can be found here.