The following user guide explains how to secure your files in the FAUbox-cloud with End-to-End-Encryption (E2EE) using the newest version of Boxcryptor.
What is Boxcryptor?
Boxcryptor is a software offering you to secure your cloud with an additional, userfriendly security layer by locally encrypting the files on your device. The software was designed for cloud-storages, therefore each file is encrypted individually and the access to the data can be separated. Other typical cloud-features, such as selective synchronization, will be preserved and supported as well.


Please note! 
Regarding system requirements the operating systems Windows 7, macOS 10.10, 64-bit Linux-Distribution or newer are needed.
To secure your files (with E2EE) using Boxcryptor:
In order to secure your files with E2EE using Boxcryptor, you have to install the FAUbox Client as well as Boxcryptor on your device. In case of the latter the provider offers a software-edition meant for private use, one for buisness related work and a version free of charge.
1. Installing Boxcryptor and creating an account and add drive:
1.1 Boxcryptor on Windows:
1.1.1 Visit the page https://www.boxcryptor.com/en/download/ and start the installation by clicking on Download Boxcryptor.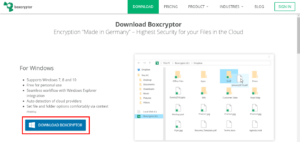 1.1.2 Open the Setup file which was downloaded and follow the instructions of the Setup Wizard . Click on Next.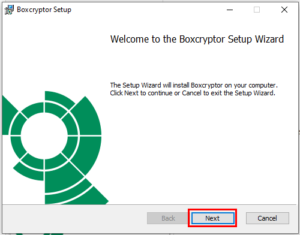 Accept the End-User License-Agreement …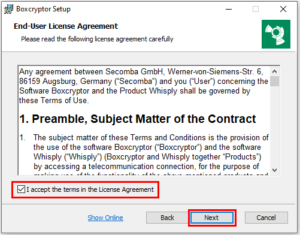 …as well as the End-User Privacy Policy Agreement and click on Next.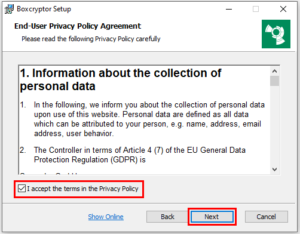 Choose one of the following offered options and click on Next.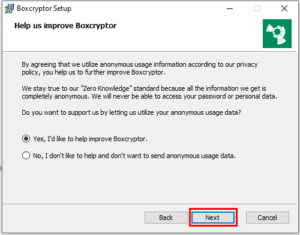 We suggest to accept the storage location chosen by Boxcryptor. Click on Next.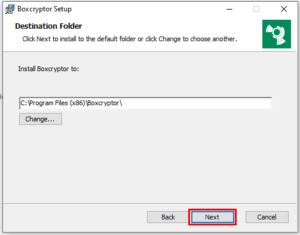 In the following step, click on Install.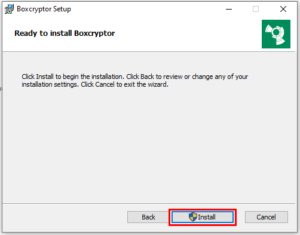 If there are any files that need to be uploaded for the installation but are in use in this very moment, the following notification will appear. Choose one of the offered options and click on OK.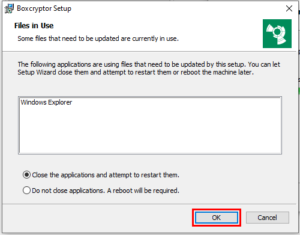 The installation will now begin.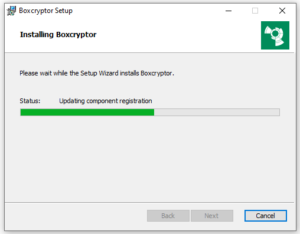 Click on Finish to close the Setup Wizard and to reboot your device.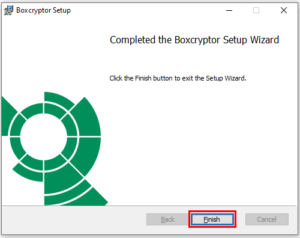 1.1.2. Open up the Boxcryptor-App you just installed and click on Create Account.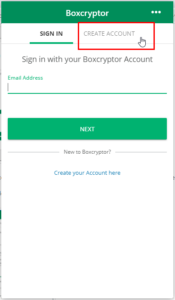 2.1 Fill out the registration-form and click on Proceed.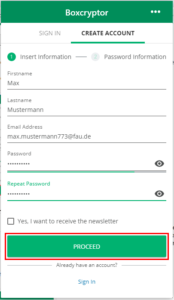 Please note!
Choose a password that you can remember well or write it down !!! Boxcryptor follows the Zero-Knowledge-Principle, therefore you can not reset your password. IF YOU FORGET YOUR PASSWORD YOUR DATA WILL BE IRREVERSIBLY LOST !!!
2.2 Choose one of the offered Boxcryptor-editions.
2.3 Confirm that you have been informed about Boxcryptors Zero-Knowledge-Principle and click on Create Account.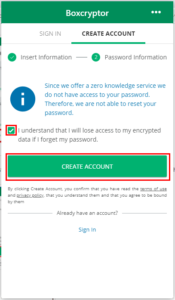 2.4 You will then receive an e-mail and have to confirm your e-mail-adress.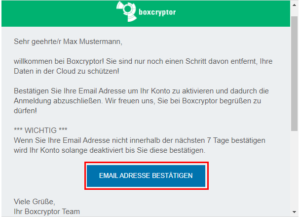 2.5 Afterwards, you will be redirected to Boxcryptor. There you can log into your newly created account.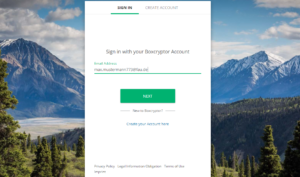 1.2 Boxcryptor on Linux
1.2.1 open the page https://www.boxcryptor.com/de/download/?platform=portable start the installation by selecting Portable for Linux and then clicking on Download Boxcryptor.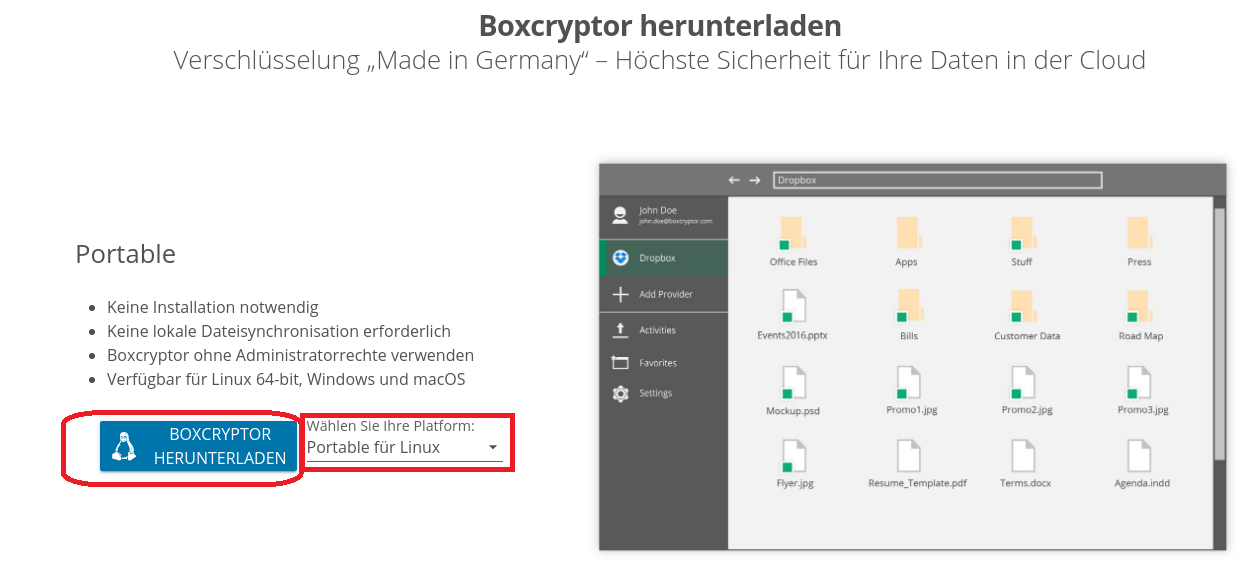 1.2.2 If the installation has been performed, you can unpack the contents from the installed package.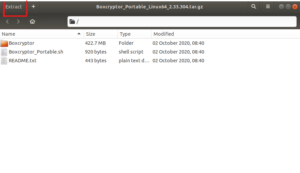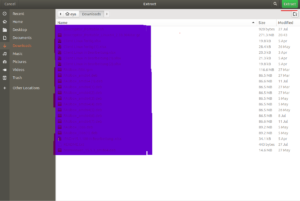 1.2.3 Start the console now. Enter the command: "cd Downloads/ "

1.2.4 Then enter the command ". /Boxcryptor_Portable. sh. "

as soon as the installation is completed, the Boxcryptor-app will start.
1. 2. 5 Fill out the registration form and click PROCESSED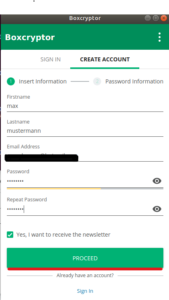 1.2.6 Confirm that you have taken note of the zero-knowledge principle and click CREATE ACCOUNT.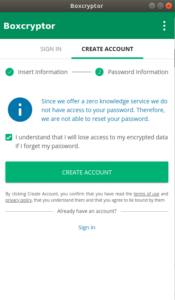 1.2.7 Now select the desired package.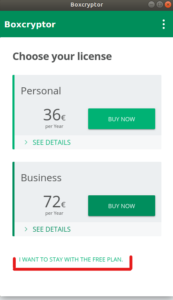 1.2.8 You will then be redirected to Boxycryptor.
1.2.9 click Add provider and select Local Storage.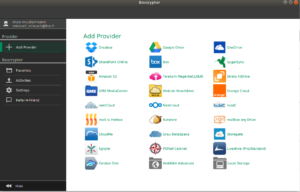 1.2.10 Click Browse and select FAUbox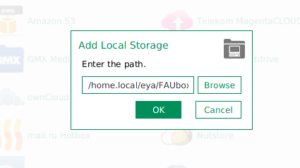 1.2.11 Ready! Now the FAUbox cloud storage has been added to Boxcryptor.
2. Explore Boxcryptor:
Once you have installed Boxcryptor and logged into your account using the App, a Boxcryptor-drive using the letter X will appear on your device: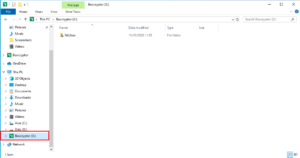 In case the FAUbox-cloud is not automatically added to your Boxcryptor-drive (as shown in the picture above), you can add it manually.
2.1 Right-click on the Boxcryptor-drive and select Settings via Boxcryptor.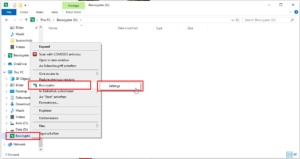 2.2 Click on Add.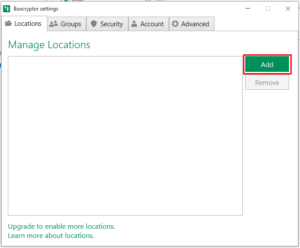 2.3 Select the FAUbox-cloud.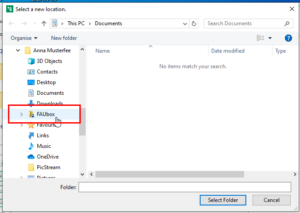 2.4 Finished! The FAUbox-cloud was successfully added to Boxcryptor.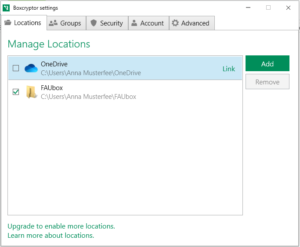 We recommend choosing the FAUbox-Basefolder as the base for Boxcryptor. This way you can encrypt any folder or file within your FAUbox-Cloud at any time. On the other hand, if you choose a toplevel folder as the base, then you can only secure the data within this single toplevel folder.